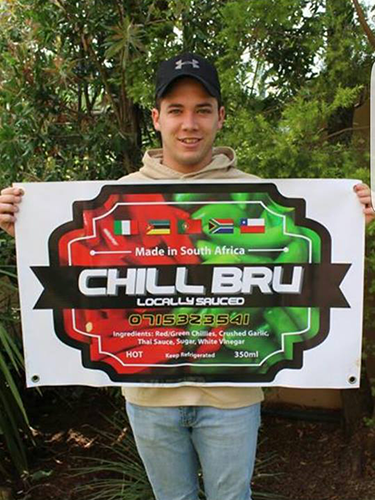 In October 2017, 18-year-old Daniel Herbst asked his father if they could make, bottle and sell the family's chilli and garlic sauce. His Dad had created the recipe after receiving a bottle of chilli sauce from a barman at "Zavora" in Mozambique many years ago.
"I am such a proud father of my 18 year old son "Daniel" who started an idea of bottling my recipe for a chilli sauce. It was the 27th of October last year that he blended his first batch."
He decided to call the sauce CHILL-BRU… what he often has to tell his Dad when he's too 'unreasonable' with the way teenagers think.
In the first 2 months, the sales exceeded 1400 bottles and the feedback and comments received from the clients were so overwhelming that turning back was not even an option for the young entrepreneur. His simple idea to make some extra money had started to become a real business.
CHILL-BRU has since grown up to be a sauce that Liquor City Head office has given Daniel the 'greenlight' to supply their many stores, countrywide. He's already supplying 16 Liquor City stores in and around the East Rand and the hot sauce has also gone through the process with 'Meat World' and already delivered to two of their 14 outlets.
Daniel proudly boasts about having a client base of 34, and only being 18. The production has also increased to a point where the young entrepreneur has employed helping hands to cater for the demands.
"Together we'll make it happen… and I'm an extremely proud father of a boy that would've had to fight the nearly impossible task of finding a job after his school career at 'Jeppe boys'."
Daniel is also working on his already good game of golf to try to qualify for the Sunshine tour. He's used some of the profits from the business to buy new Golf Clubs and has already paid for Matric vac in full.
"Daniel's been playing golf since he was two. Before he could even properly hold a club. He's got the potential to go pro."
We're looking forward to watching this young entrepreneur grow his business even bigger.